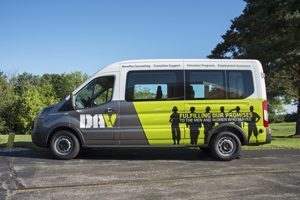 Transportation Program
This office has vehicles to provide transportation to Veteran Administration (VA) medical appointments. This includes the VA Medical Center (Pittsburgh, PA) and local VA clinics (Cambridge, OH; Marietta, OH; Parkersburg, WV; St. Clairsville, OH). Transportation may also be provided to Compensation Benefit Exams (C&P exams) pending approval.
If you would like to schedule a ride, please call 740-472-0743 and Press 1 to contact the Transportation Coordinator. You must call at least 48 hours in advance of your appointment. If you are directed to voicemail please leave a message with your name, the last four digits of your social security number, your phone number, and the location of your appointment, along with the date and time of the appointment. Your call will be returned as soon as possible by the Transportation Coordinator to confirm your appointment.
The driver will contact you no later than 6:00 PM the day before the appointment to confirm departure time. All departures are from the Woodsfield Office or Clarington pick-up point.
---
Travel Voucher Program
Transportation reimbursement through the Monroe County Veterans Office reimburses the Veteran's travel to and from approved VA and non-VA health care appointments. To find out if you are eligible, and how to request reimbursement, call us at 740-472-0743.
Download Travel Voucher