We have moved offices. Our new location is near the east entrance (by the flag pole) of the same building. Go through the east doors and the new offices are down the hall on the right. Please excuse our mess as we get things reorganized.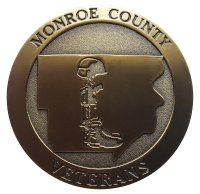 "With malice toward none, with charity for all, with firmness in the right as God gives us to see the right, let us strive on to finish the work we are in, to bind up the nation's wounds, to care for him who shall have borne the battle and for his widow, and his orphan, to do all which may achieve and cherish a just and lasting peace among ourselves and with all nations"
— President Abraham Lincoln
Always remember to bring in your latest VA correspondence.
---
---
---
Location
118 Home Avenue
Woodsfield, Ohio 43793
Directions